Solutions
Quality and Service without compromise
Tool Manufacturing @ Muhr Group
Innovative and optimised
The tool shop specialises in making progressive dies, follow-on dies and transfer dies for steel and aluminium car body panels. Our long-standing and satisfied customer list include leading names like Daimler and BMW. We make dies with gross weights of up to about 35 tonnes for deep drawing, die cutting and pressing.
Modern data processing
We use CAD/CAM programs, such as Catia V5, Mastercam and Work NC to work with our customers and business partners. Products which are almost ready to go into production and prototypes can be tried out and accepted on the hydraulic and mechanical presses on our own premises. The proximity of the tool shop to our production facilities guarantees efficient workflow processes - which is also an advantage when it comes to the maintenance of our production equipment.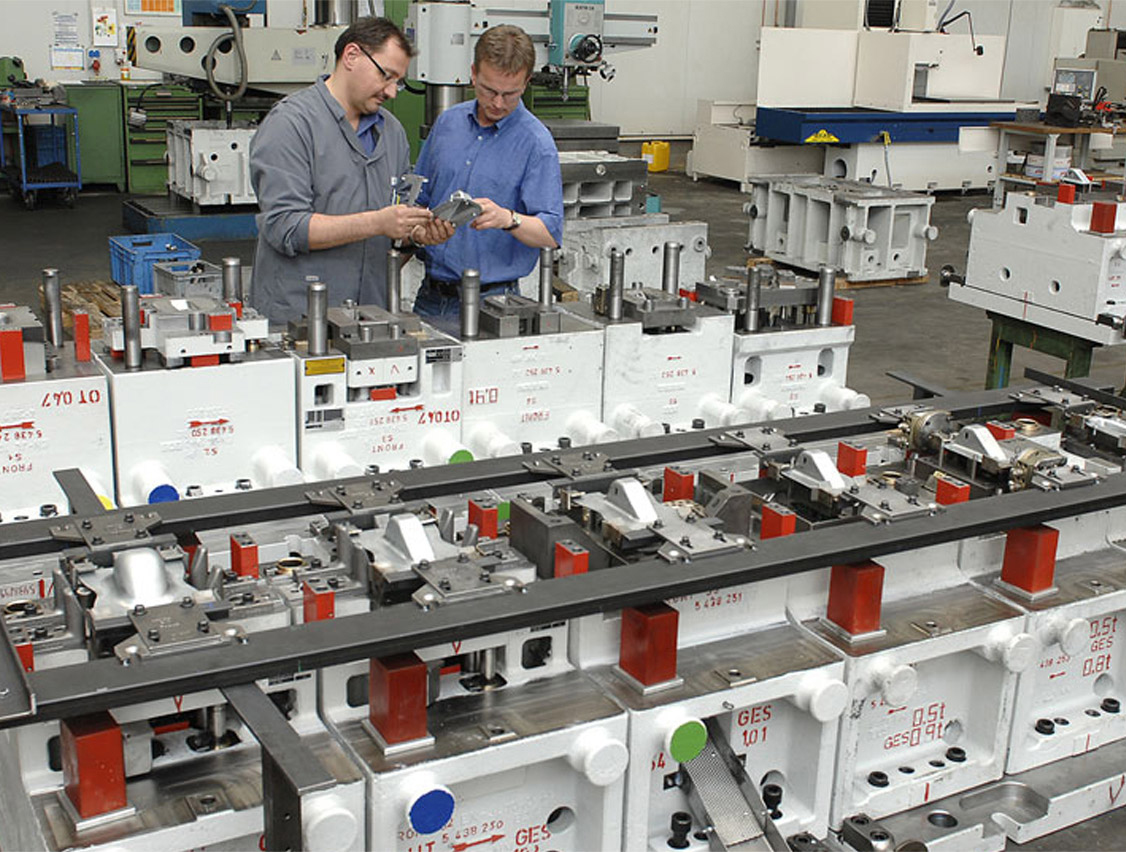 Our machinery
Serial production
Schedule and capacity management
The production of car body parts depends on more than high-performance machinery. This is taken for granted by our customers in the automotive industry. It is more about keeping strict control of the production orders and juggling the deadlines with the available staff and machine capacities with meticulous precision.
Efficiency instead of insufficiency
The availability of the tools and dies required for any given order must be guaranteed in order to avoid hold-ups in production. To this end, the tool maintenance engineers liaise closely with the individual project teams at Muhr Metalltechnik. We achieve the maximum possible efficiency in the production processes by analysing operations and factoring in key ratios, such as batch sizes, lead time reduction and the number of tool changeovers.
High precision quality and service without compromise
We are aware that the success of our products is directly linked to the satisfaction of our customers. It is therefore our greatest wish to comprehensively fulfil the demands of our customers with respect to quality, punctuality and pricing.
In order to meet with the associated requirements in this regard, we implement a quality management system that conforms to a wide range of national and international standards. Our employees work constantly on adhering to and continuously improving this system.